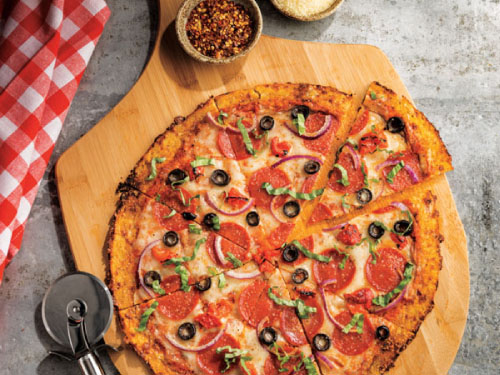 Turkey Pepperoni & Roasted Red Peppers Cauliflower Pizza
Prep: 25 minutes plus standing
Bake: 31 minutes • Serves: 4
1
medium head cauliflower, coarsely chopped
1/4
cup water
3
garlic cloves, minced
2
large egg whites
3/4
cup shredded part-skim mozzarella cheese
2
tablespoons grated Parmesan cheese
1-1/2
teaspoons olive oil
1/4
teaspoon kosher salt
1/4
teaspoon freshly ground black pepper
1/4
cup marinara sauce
17
slices turkey pepperoni
3/4
cup chopped drained roasted red peppers
1/4
cup sliced red onion
2
tablespoons sliced black olives
1
tablespoon sliced basil leaves
1.Preheat oven to 450°. Line cookie sheet with parchment paper.

2.In food processor with knife blade attached, pulse half the cauliflower 10 times or to rice-like consistency. (You should have about 6 cups.) Transfer cauliflower to large microwave-safe bowl. Repeat with remaining cauliflower.

3.Add water to cauliflower; cover bowl with plastic wrap; heat in microwave oven on high 12 minutes or until very tender. Uncover; let stand 30 minutes. Place cauliflower in clean kitchen towel; squeeze until very dry.

4.In same bowl, stir steamed cauliflower, garlic, egg whites, 1/2 cup mozzarella cheese, Parmesan cheese, oil, salt and black pepper.

5.Press cauliflower mixture into 14-inch circle on prepared cookie sheet. Bake 24 minutes or until browned. Evenly top crust with marinara, remaining 1/4 cup mozzarella cheese, pepperoni, roasted peppers, onion and olives. Bake 7 minutes longer or until cheese melts.

6.To serve, sprinkle pizza with basil; cut into wedges.


Approximate nutritional values per serving:
187 Calories, 9g Fat (3g Saturated), 25mg Cholesterol,
705mg Sodium, 15g Carbohydrates, 5g Fiber, 13g Protein