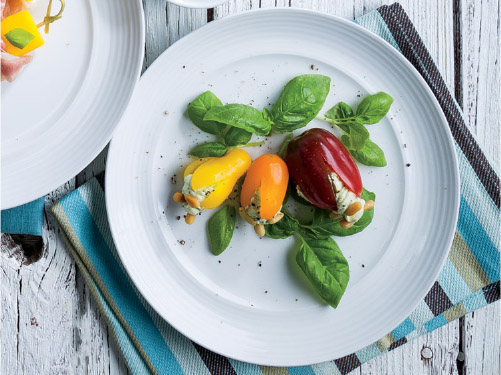 Tomato Tulips with Parmesan-Pesto Cream Cheese & Pine Nuts
Prep: 20 minutes • Serves: 6
2
tablespoons pine nuts
1/2
cup cream cheese, softened
2
tablespoons grated Parmesan cheese
1
tablespoon refrigerated basil pesto
1
package (12 ounces) gourmet medley grape tomatoes
18
fresh basil leaves
1/4
teaspoon fresh ground black pepper
1.In small skillet, toast pine nuts over medium-low heat 3 minutes or until golden brown and fragrant, stirring frequently.

2.In small bowl, stir cream cheese, Parmesan cheese and pesto. Transfer to small zip-top plastic bag; squeeze out excess air and snip off 1/4-inch from bottom corner. Makes about 2/3 cup.

3.With paring knife, starting on bottom of each tomato, cut an "X" about 3/4 way down the tomato; with small spoon, carefully scrape out pulp and seeds. Fill tomatoes with cream cheese mixture; press pine nuts into cheese mixture. Place basil leaves on serving plate; place filled tomatoes on basil and sprinkle with pepper.


Approximate nutritional values per serving (3 tomato tulips):
115 Calories, 10g Fat (5g Saturated), 22mg Cholesterol,
117mg Sodium, 7g Carbohydrates, 1g Fiber, 2g Sugars,
0g Added Sugars, 3g Protein