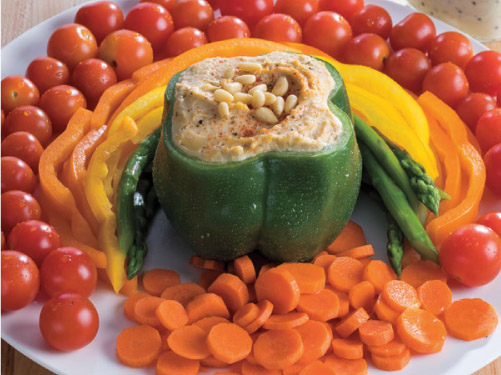 Pot o' Gold Hummus with Veggie Rainbow
Prep: 10 minutes
Cook: 2 minutes • Serves: 6
1/2
bunch thin asparagus, ends trimmed
1
large green bell pepper
1-1/2
cups favorite hummus
1
package cherry tomatoes
1
large orange bell pepper
1
large yellow bell pepper
3
medium carrots, cut crosswise into 1/8-inch-thick "coins"
1.Heat medium covered saucepot of salted water to a boil; add asparagus and cook 2 minutes or just until tender-crisp. Transfer asparagus to bowl filled with ice water; once chilled, drain and pat dry with paper towel.

2.Slice 1/2-inch off top of green bell pepper; fill with hummus and place in center of serving plate.

3.Arrange tomatoes, orange and yellow bell peppers, and asparagus on plate in rows above green pepper resembling a rainbow; arrange carrot coins on plate below rainbow.


Approximate nutritional values per serving:
138 Calories, 8g Fat (2g Saturated), 0mg Cholesterol,
217mg Sodium, 13g Carbohydrates, 3g Fiber, 5g Protein

Chef Tip:
Garnish hummus with a drizzle of olive oil, smoked paprika and toasted pine nuts.