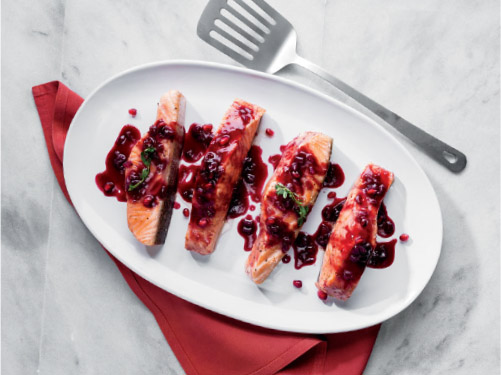 Pomegranate & Red Wine Roasted Salmon
Prep: 20 minutes
Roast: 15 minutes • Serves: 4
1
cup dry red wine (such as Pinot Noir)
3/4
cup pomegranate seeds
1
shallot, chopped
2
tablespoons honey
2
tablespoons unsalted butter
4
boneless salmon fillets (about 1-1/4 pounds)
1
teaspoon salt
1/2
teaspoon fresh ground black pepper
4
thyme sprigs for garnish (optional)
1.Preheat oven to 400°. In blender, blend wine and 1/2 cup pomegranate seeds; strain through fine-mesh strainer into small bowl and discard pulp.

2.In small saucepan, heat shallot, honey and pomegranate-wine mixture to a boil over high heat; reduce heat to medium and simmer 8 minutes or until reduced by 1/2. Remove from heat; stir in butter. Makes about 1/2 cup.

3.Place salmon, skin side down, in 8-inch square baking dish; sprinkle with salt and pepper. Pour wine mixture over salmon. Roast salmon 15 minutes or until internal temperature reaches 145°. Serve salmon drizzled with pomegranate-wine sauce and sprinkled with remaining 1/4 cup pomegranate seeds. Garnish with thyme sprigs, if desired.


Approximate nutritional values per serving:
393 Calories, 16g Fat (5g Saturated), 105mg Cholesterol,
655mg Sodium, 18g Carbohydrates, 2g Fiber, 14g Sugars,
9g Added Sugars, 33g Protein

Dietitian's Dish
Red wine is known for the beneficial effects of resveratrol on heart health. Pomegranates have 3x as many antioxidants as red wine.Combined with omega-3 rich salmon, this recipe offers a 1-2-3 knockout punch to protect your heart!
Bonus Video!
Watch our Pomegranate & Red Wine Roasted Salmon video at InSeasoneZine.com