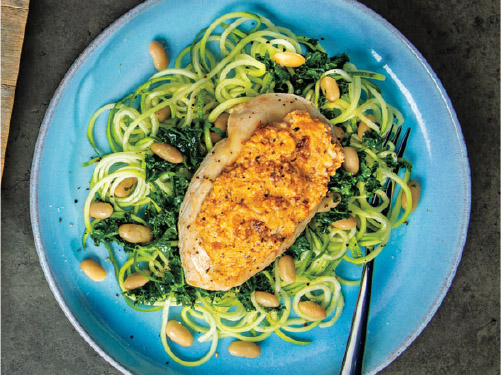 Parchment Packet Ricotta & Sun-Dried Tomato Pesto Chicken
Prep: 15 minutes
Bake: 40 minutes • Serves: 4
1. Beans:Preheat oven to 375°. Cut 4 (18 x 12-inch) sheets parchment paper; place lengthwise on work surface. Drain and rinse 1 (15.5-ounce) can reduced sodium cannellini beans; place in medium bowl.

2. Kale:Chop 2 cups kale; add to bowl with beans. Add 1/2 teaspoon salt and 1/4 teaspoon black pepper; toss and divide onto right side of parchment sheets.

3. Ricotta Cheese:Place 1/4 cup part-skim ricotta cheese in small bowl.

4. Sun-Dried Tomato Pesto:Stir 1/4 cup sun-dried tomato pesto into bowl with ricotta cheese.

5. Chicken Breasts:Place 4 boneless, skinless chicken breasts on top of bean mixture; spread with cheese mixture and sprinkle with 1/4 teaspoon crushed red pepper, if desired. For each packet, fold left side of parchment sheet over chicken and bean mixture; fold edges several times to seal tightly and place on rimmed baking pan. Bake 40 minutes or until internal temperature of chicken reaches 165°. With kitchen shears, cut an X in top of packets, then carefully pull back parchment to release steam.


Approximate nutritional values per serving:
331 Calories, 8g Fat (2g Saturated), 99mg Cholesterol, 598mg Sodium,
21g Carbohydrates, 6g Fiber, 1g Sugars, 43g Protein

Chef Tip:
Serve chicken and bean mixture over zucchini noodles for a complete meal.