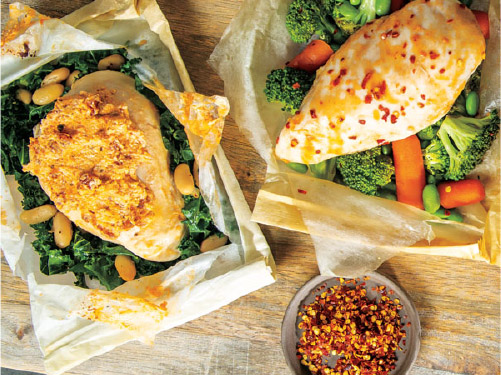 Parchment Packet Asian Chicken & Vegetables
Prep: 15 minutes
Bake: 40 minutes • Serves: 4
1. Carrots:Preheat oven to 375°; cut 4 (18 x 12-inch) sheets parchment paper. Place 2 cups baby carrots in large bowl.

2. Broccoli:Cut 1/8 head broccoli into florets (about 2 cups); add to bowl with carrots.

3. Edamame:Add 3/4 cup thawed frozen shelled edamame to bowl with carrots and broccoli.

4. Marinade & Sauce:Toss 1/4 cup less-sodium teriyaki marinade & sauce with vegetables. Place parchment sheets lengthwise on work surface; divide vegetable mixture onto right side of sheets.

5. Chicken Breasts:Place 4 boneless, skinless chicken breasts on top of vegetable mixture; brush with 1 tablespoon less-sodium teriyaki marinade & sauce and sprinkle with 1/2 teaspoon ground red pepper, if desired. For each packet, fold left side of parchment sheet over chicken and vegetable mixture; fold edges several times to seal tightly and place on rimmed baking pan. Bake 40 minutes or until internal temperature of chicken reaches 165°. With kitchen shears, cut an X in top of packets, then carefully pull back parchment to release steam.


Approximate nutritional values per serving:
286 Calories, 5g Fat (1g Saturated), 94mg Cholesterol, 788mg Sodium,
17g Carbohydrates, 4g Fiber, 10g Sugars, 41g Protein

Chef Tip:
Serve chicken and vegetables over frozen steam-in-bag brown rice or cauliflower rice pilaf.