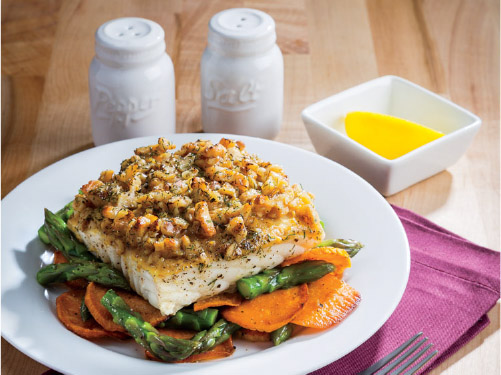 One-Pan Maple-Walnut Crusted Halibut & Vegetables
Prep: 15 minutes
Roast: 25 minutes • Serves: 4
Nonstick cooking spray
1
cup chopped walnuts
2
tablespoons lemon zest
2
tablespoons maple syrup
1
teaspoon dried dill
1
pound asparagus, trimmed, cut into 2-inch pieces
1
sweet potato, peeled and sliced 1/8-inch thick
2
tablespoons olive oil
1/2
teaspoon salt
1/2
teaspoon ground black pepper
4
skinless halibut fillets (about 1-1/2 pounds)
1/4
cup Dijon mustard
1.Preheat oven to 450°. Spray large rimmed baking pan with cooking spray. In medium bowl, stir walnuts, zest, syrup and dill.

2.In large bowl, toss asparagus, potatoes, 1 tablespoon oil, and 1/4 teaspoon each salt and pepper; spread in single layer on prepared pan. Roast 15 minutes.

3.Coat fish with remaining 1 tablespoon oil; sprinkle with remaining 1/4 teaspoon each salt and pepper. Spread top of fish with mustard; press walnut mixture over mustard. Push vegetables to 1 side of pan; place fish on opposite side of pan.

4.Roast 10 minutes or until internal temperature of fish reaches 145° and vegetables are crisp-tender.


Approximate nutritional values per serving:
511 Calories, 30g Fat (3g Saturated), 87mg Cholesterol, 824mg, Sodium,
22g Carbohydrates, 5g Fiber, 10g Sugars, 6g Added Sugars, 40g Protein

Dietitian's Dish
Heart healthy omega-3 fats are plentiful from the fish and walnuts. DHA and EPA forms of omega-3 found in fish have the strongest health benefits.