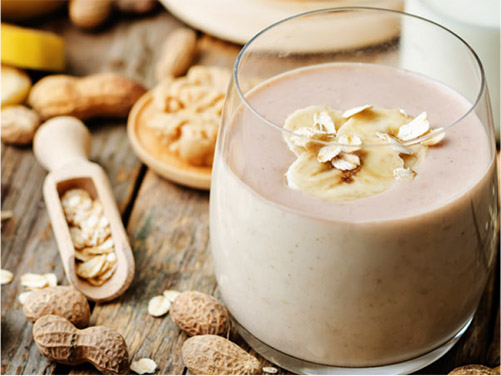 Nut Butter, Oat & Banana Smoothie
Prep: 5 minutes plus standing
Serves: 2
1/4
cup rolled oats
1
cup plus 2 tablespoons whole milk
1
medium ripe banana, cut into thirds
2
tablespoons peanut butter
2
teaspoons honey
1/2
teaspoon ground cinnamon
1.Add oats and milk to blender; let stand 10 minutes to allow oats to soften. Add remaining ingredients and blend until smooth. If consistency is too thick, add 1 to 2 tablespoons more milk and blend. Makes about 2 cups.


Approximate nutritional values per serving:
288 Calories, 13g Fat (4g Saturated), 13mg Cholesterol,
131mg Sodium, 36g Carbohydrates, 4g Fiber, 10g Protein

Chef Tip:
Substitute your favorite nut butter for the peanut butter, if desired.
Dietitian's Dish Tip(s):
> Although oats are naturally gluten-free, they are often processed in facilities that also handle other gluten-containing grains (like wheat). If you need to eat gluten-free, be sure to check the label or call the manufacturer for information on their processing facilities.