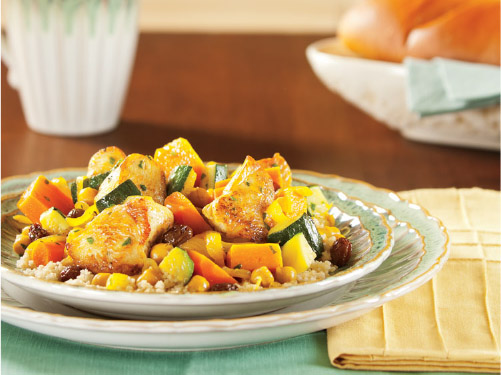 Moroccan Chicken Stew with Couscous
Prep: 25 minutes
Cook: 50 minutes • Serves: 6
2
tablespoons olive oil
1-1/4
pounds boneless, skinless chicken breasts, cut into 1½-inch pieces
3
large yellow onions, thinly sliced
2
cups water
1
teaspoon granulated sugar
1
teaspoon ground cinnamon
1
teaspoon ground ginger
1
teaspoon turmeric powder
4
medium carrots, cut into 1-inch pieces
1
large sweet potato, peeled and cut into 1½-inch pieces
1
can (15 ounces) reduced sodium garbanzo beans, drained and rinsed
1
small zucchini, cut into 1-inch pieces
1/2
cup raisins
1
tablespoon fresh lemon juice
1-1/4
cups dry couscous
1-1/2
teaspoons chopped fresh oregano
3/4
teaspoon salt
1/8
teaspoon ground black pepper
1.In large saucepot, heat 1 tablespoon oil over medium-high heat; add chicken and cook 3 minutes or until browned, stirring frequently. Remove chicken; reduce heat to medium. Add remaining 1 tablespoon oil and onions; cook 10 minutes or until soft, stirring occasionally. Add water, sugar, cinnamon, ginger and turmeric; heat to a simmer. Add carrots and potato; cover and cook 20 minutes.

2.Add garbanzo beans, zucchini, raisins, lemon juice and chicken; cover and cook 10 minutes or until chicken is no longer pink and vegetables are tender.

3.Prepare couscous as label directs.

4.Stir in oregano, salt and pepper. Serve stew over couscous.


Approximate nutritional values per serving:
452 Calories, 8g Fat (1g Saturated), 56mg Cholesterol,
469mg Sodium, 65g Carbohydrates, 9g Fiber, 16g Sugars,
1g Added Sugars, 32g Protein

Dietitian's Dish
Show your heart some love with the anti-infl ammatory properties of cinnamon, ginger and turmeric.