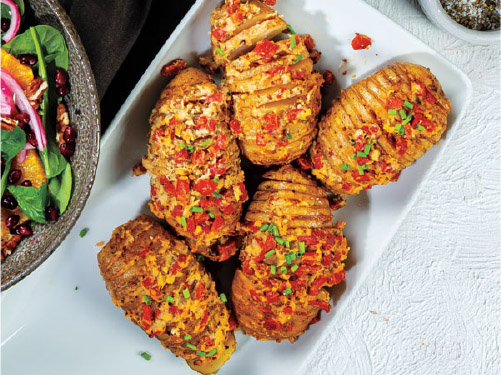 Hasselback Potatoes with Horseradish & Roasted Red Peppers
Prep: 35 minutes
Bake: 40 minutes • Serves: 8
Nonstick cooking spray
8
medium russet potatoes (about 4 pounds)
6
tablespoons butter, melted
1
teaspoon salt
1
teaspoon
McCormick® ground black pepper
1/2
cup refrigerated prepared horseradish
1/4
cup ground mustard
1
tablespoon fresh lemon juice
1/2
cup drained chopped roasted red peppers
1/2
teaspoon smoked paprika
1/4
cup chopped chives
1.Preheat oven 450°. Spray rimmed baking pan with cooking spray. Cut about 1/4-inch off both sides of each potato; leaving about ¼-inch intact on bottoms of potatoes, cut potatoes crosswise into 1/4-inch-thick slices. In 2 batches, gently separating slices, carefully rinse potatoes under cold water; drain and place upside down in 2-quart microwave-safe dish. Cook potatoes in microwave oven on high 8 minutes or until slightly soft, turning potatoes cut side up after 4 minutes.

2.Place potatoes, cut side up, on prepared pan; brush all sides of potatoes with butter and sprinkle with salt and pepper. Bake potatoes 15 minutes.

3.In small bowl, whisk horseradish, mustard and lemon juice; fold in red peppers. Spread horseradish mixture over potatoes and in between slices; sprinkle with paprika. Bake 25 minutes or until potatoes are tender, lightly browned and crisp. Brush potatoes with any remaining butter in pan; serve potatoes topped with chives.


Approximate nutritional values per serving:
279 Calories, 9g Fat (5g Saturated), 0mg Cholesterol,
694mg Sodium, 41g Carbohydrates, 4g Fiber, 3g Sugars, 5g Protein

Chef Tip:
Potatoes can be prepared through step 2, cooled, wrapped in plastic wrap and refrigerated up to 1 day in advance. To finish preparing, let potatoes stand at room temperature 15 minutes and continue with step 3.