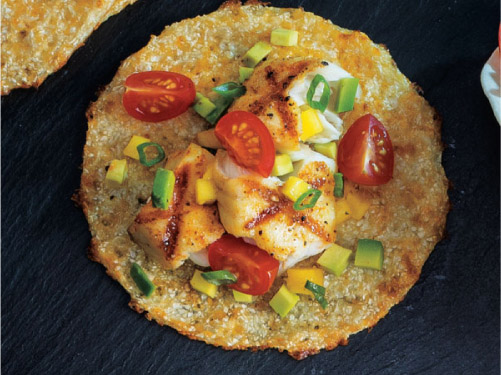 Grilled Fish Tacos with Cauliflower Tortillas
Prep: 40 minutes
Grill: 6 minutes • Serves: 4
2
cups small cauliflower florets
1
large egg white
1
cup shredded Mexican blend cheese
1
teaspoon smoked paprika
1/2
teaspoon kosher salt
1/4
teaspoon ground black pepper
1/4
teaspoon ground cumin
1-1/4
pounds tilapia fillets, cut lengthwise in half then crosswise in half
Nonstick cooking spray
1
large avocado, diced
1/2
ripe mango, peeled and diced
1
cup quartered cherry tomatoes
1/4
cup sliced green onions
1.Preheat oven to 400°. Line 2 rimmed baking pans with parchment paper. In food processor with knife blade attached, process cauliflower until it resembles small crumbs; add egg white and cheese and pulse until combined. Scoop cauliflower mixture into 8 balls (about 3 tablespoons each) onto prepared pans; press each ball into 6-inch-wide circle. Bake 20 minutes or until golden brown.

2.Prepare outdoor grill for direct grilling over medium-high heat. In small bowl, combine paprika, salt, pepper and cumin; spray both sides of tilapia with nonstick cooking spray and sprinkle with paprika mixture. Place tilapia on hot grill rack; cook 6 minutes or until internal temperature reaches 145°, turning once halfway through cooking.

3.Fill cauliflower tortillas with tilapia, avocado, mango, tomatoes and onions.


Approximate nutritional values per serving:
434 Calories, 21g Fat (8g Saturated), 107mg Cholesterol, 449mg Sodium,
18g Carbohydrates, 7g Fiber, 10g Sugars, 0g Added Sugars, 48g Protein

Dietitian's Dish Tip(s):
> If you're looking to lower the calories and carbs in your Taco Tuesday menu, make your own tortilla or taco shells using cauliflower or zucchini. It's a nutrient-filled alternative to flour or corn tortillas.