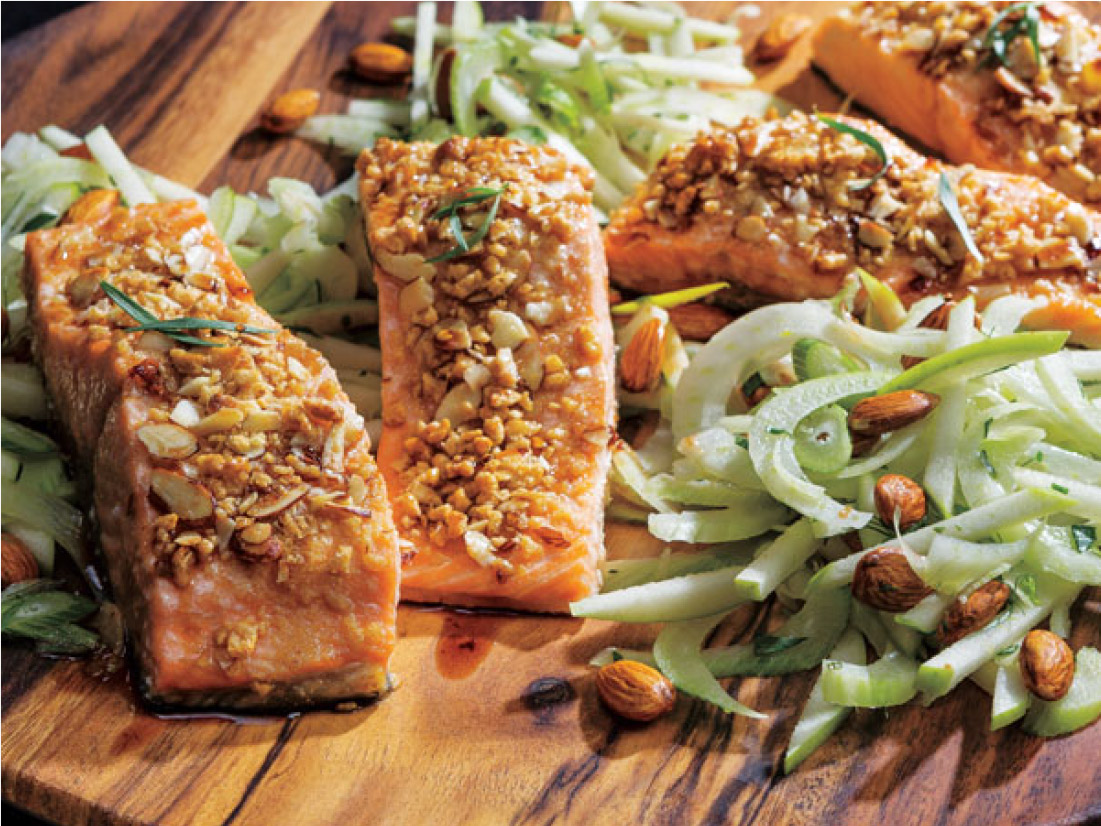 Crispy Honey Nut Baked Salmon with Almond-Fennel Salad
Prep: 15 minutes
Bake: 15 minutes • Serves: 4
Nonstick cooking spray
2/3
cup raw whole almonds
1
cup honey nut toasted oats cereal
4
skin-on salmon fillets (about 6 ounces each)
2
tablespoons honey
2
tablespoons balsamic glaze
1
tablespoon chili garlic sauce
1
medium fennel bulb, thinly sliced
1
small green apple, thinly sliced
1
tablespoon fresh lemon juice
1
tablespoon olive oil
1
tablespoon chopped fresh tarragon
1.Preheat oven to 425°. Line rimmed baking pan with parchment paper; spray with cooking spray.

2.In food processor, process 1/3 cup almonds 30 seconds or to coarse crumbs; add cereal and pulse 10 times. Makes about 1 cup.

3.Place salmon, skin side down, on prepared pan; brush with 1 tablespoon honey and press oat-almond crumbs over honey. Bake 15 minutes or until internal temperature of salmon reaches 145°.

4.In small bowl, whisk balsamic glaze, chili garlic sauce and remaining 1 tablespoon honey. In large bowl, toss fennel, apple, lemon juice, oil, tarragon and remaining 1/3 cup almonds.

5.Serve salmon drizzled with spiced honey balsamic with almond-fennel salad.


Approximate nutritional values per serving:
557 Calories, 26g Fat (3g Saturated), 107mg Cholesterol,
240mg Sodium, 35g Carbohydrates, 6g Fiber, 24g Sugars, 44g Protein

Dietitian's Dish Tip(s):
> Treat your heart well with the rich flavors in these recipes. Salmon and almonds provide omega-3 fats that help reduce blood pressure and prevent blood clots. The sweet addition of strawberries offers folate, which protects the heart and vascular system by widening arteries to prevent plaque build-up.