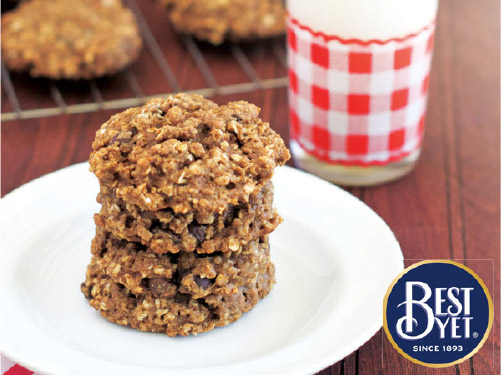 Chocolate Chip Banana Oatmeal Cookies
Prep: 40 minutes
Bake: 10 minutes per batch • Serves: 18
1
cup
Best Yet® quick oats
3/4
cup whole wheat flour
1
teaspoon
Best Yet® baking powder
1/2
teaspoon
Best Yet® ground cinnamon
1/8
teaspoon
Best Yet® plain salt
2
tablespoons
Best Yet® unsalted butter
, melted
1/2
cup
Best Yet® dark brown sugar
1
ripe banana, mashed
1
teaspoon
Best Yet® pure vanilla extract
1
Best Yet® large egg
1/4
cup
Best Yet® milk chocolate chips
1.Combine oats, flour, baking powder, cinnamon and salt in medium bowl.

2.Mix butter, sugar, banana and vanilla in separate bowl. Add egg and mix well. Add dry ingredients to wet ingredients until just incorporated. Mix in chocolate chips. Cover and refrigerate 30 minutes.

3.Preheat oven to 375°F.

4.Drop spoonfuls of cookie dough onto parchment-lined baking sheet and press down to flatten.

5.Bake 10-12 minutes, or until browned. Let cool 5 minutes on baking sheet before transferring to cooling rack.


Recipe courtesy of our friends at produceforkids.com