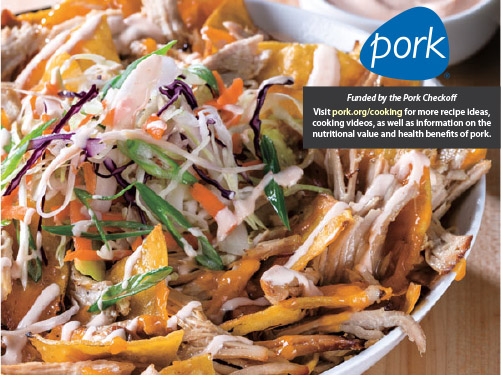 Asian Pork Nachos with Sriracha Cream
Prep: 15 minutes
Slow Cook: 8 hours 30 minutes • Serves: 4
1
boneless pork loin end roast (1 pound)
2
tablespoons honey
2
tablespoons less-sodium soy sauce
1
tablespoon minced fresh ginger
8
(6-inch) extra thin yellow corn tortillas
Nonstick cooking spray
1/2
cup nonfat plain Greek yogurt
2-1/2
teaspoons sriracha
1
cup reduced fat shredded sharp Cheddar cheese
3
cups coleslaw mix
1/4
cup thinly sliced scallions
1. In 5- to 6-quart slow cooker, add pork, 1/2 cup water, honey, soy sauce and ginger. Cover and cook on low 8 hours or high 4 hours. Transfer to large bowl; with 2 forks, shred into bite-sized pieces. Add liquid from slow cooker; toss to combine.

2.Preheat oven to 350°. Spray both sides of tortillas with cooking spray. Stack 4 tortillas, cut into 6 wedges; repeat with remaining tortillas. On 2 rimmed baking pans, spread tortilla wedges in single layer. Bake 18 minutes or until golden brown and crisp, rotating pans and turning wedges after 10 minutes; transfer to wire rack to cool.

3.In small bowl, stir yogurt and sriracha until combined.

4.Line large rimmed baking pan with parchment paper. Spread tortilla chips on prepared pan; top with shredded pork and sprinkle with cheese. Bake 12 minutes or until cheese melts. Sprinkle with coleslaw and scallions; drizzle with yogurt-sriracha mixture.


Approximate nutritional values per serving:
380 Calories, 13g Fat (4g Saturated), 83mg Cholesterol,
597mg Sodium, 31g Carbohydrates, 2g Fiber, 14g Sugars, 36g Protein

Chef Tip:
Serve with a blend of freekeh, edamame and fresh chopped cilantro.
Dietitian's Dish Tip(s):
> Eight cuts of pork meet the USDA guidelines* for "lean." Popular pork tenderloin has the same amount of fat as a skinless chicken breast.
*Per 3oz Serving. USDA National Nutrient Database for Standard Reference, April 2018.