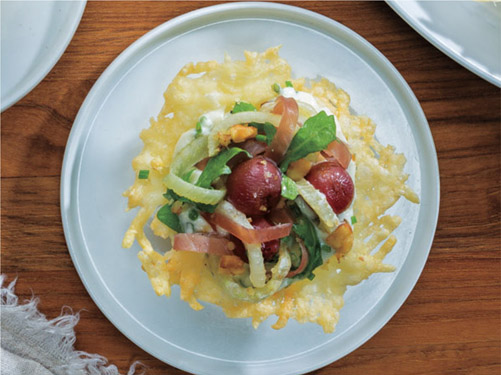 Honey Roasted Grapes and Prosciutto in Mini Frico Cups
Prep: 15 minutes
Roast: 10 minutes • Serves: 12
1/4
cup chopped walnuts
1
cup red seedless grapes
1/2
cup thinly sliced fennel
2
teaspoons honey
1
teaspoon olive oil
1/2
teaspoon chopped fresh thyme
1/2
cup mascarpone cheese
1
teaspoon chopped fresh chives
3
ounces thinly sliced prosciutto
1/4
cup baby arugula
12
Mini Frico Cups
1.Preheat oven to 425°. In large skillet, toast walnuts over medium-high heat 4 minutes or until lightly browned and fragrant, stirring occasionally. Transfer to plate to cool.

2.In medium bowl, toss grapes, fennel, honey, oil and thyme; spread on rimmed baking pan. Roast 10 minutes or until most grapes have burst. In small bowl, stir mascarpone and chives.

3.In medium bowl, toss prosciutto, arugula, walnuts and grape mixture. Makes about 1-1/2 cups.

4.Fill frico cups with mascarpone mixture; top with grape mixture.


Approximate nutritional values per serving (1 filled frico cup):
136 Calories, 11g Fat (5g Saturated), 29mg Cholesterol, 308mg Sodium,
4g Carbohydrates, 0g Fiber, 3g Sugars, 1g Added Sugars, 7g Protein

Mini Frico Cups
Prep: 10 minutes
Bake: 10 minutes • Serves: 12
1-1/2
cups shredded Parmesan cheese
1.Preheat oven to 350°. Line rimmed baking pan with parchment paper.

2.Place half cheese in 6 mounds (about 2 tablespoons each) on prepared pan; gently spread each mound into 3-inch circle. Bake 5 minutes or until edges begin to brown.

3.With thin spatula, carefully transfer circles to bottom side of mini muffin tin cups. With hand, mold circles around cups to form cup shapes; let stand 5 minutes or until firm. Repeat with remaining cheese to make 6 more cups.


Approximate nutritional values per serving (1 frico cup):
42 Calories, 3g Fat (2g Saturated), 7mg Cholesterol, 170mg Sodium,
0g Carbohydrates, 0g Fiber, 0g Sugars, 0g Added Sugars, 4g Protein