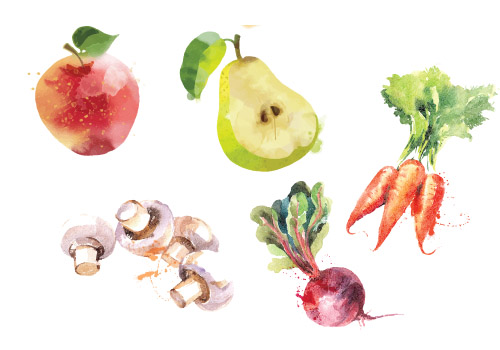 What's InSeason this Fall

As you make your way through the produce department this fall, be sure to take advantage of peak flavors! These selections will all make a great addition to fall-inspired dishes.

Apples are a great source of vitamins A and C. They contain a healthy dose of quercetin, a powerful flavonoid with antioxidant properties, which helps protect the heart and arteries, and may help combat some cancers. Already a favorite in sweet desserts like pies, cakes, tarts and crisps, apples are a wonderful addition to savory dishes as well.

Try It: Chutney is a favorite condiment for everything from cheese to roasts. Unlike applesauce, with its subtle sweet flavor, apple chutney is not only sweet, but also sour and spicy. Spread it on sandwiches, or slather it on burgers.

Pears are a fresh and nutrient-dense fruit. They are packed with vitamin C, potassium and dietary fiber that protect against many diseases and make the body feel fuller for longer. Pears add color, texture and sweet elements to several dishes.

Try It: Anjou pears are the most abundant pear in the U.S. and are excellent for eating out of hand. They're also great for baking, poaching or roasting. Add Anjou pears to a salad, cheese plate, or pork or chicken entrée.

Packed with beneficial nutrients such as vitamins B and D, mushrooms absorb the ingredients around them for dishes that are full of flavor and texture. These powerhouse immune-boosters are known for their "umami," a name for a savory taste that is meaty and broth-like.

Try It: Don't rinse mushrooms – once they are wet, it's nearly impossible to get them completely dry, which is necessary for that crispy, golden texture you desire. Instead, wipe mushrooms with a slightly damp paper towel. Mushrooms are most commonly sautéed but can also be roasted, baked, grilled, stewed and broiled.

Celebrate the deep, rich flavors of fall by incorporating root vegetables like parsnips, turnips, onions, potatoes and carrots into your autumn meals. These bountiful veggies not only heighten the taste of any dish but also are easy to prepare and packed with nutrients and antioxidants that can help cleanse your system.

Try It: Steamed, sautéed, grilled or roasted in a mash, parsnips have a sweet, nutty flavor.
Try sautéing diced parsnips with a little butter and nutmeg for a sweet side dish.