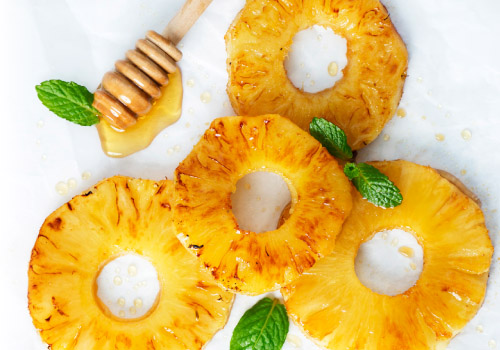 Gluten-free on the Grill
Grilling season has finally arrived! Most barbeque goers are ready to fire up the grill and cook mouthwatering food side by side, but those who follow a gluten-free diet are incredibly cautious about what dishes they will be able to enjoy. Eliminating gluten from your diet doesn't mean you have to cut out flavor! Here are some tips to make gluten-free grilling a breeze.
Proteins: In their fresh form, meats and poultry are naturally gluten-free. Be careful to steer clear of any that are packed with broth or additional liquid, as these additives may be hidden sources of gluten. Hot dogs are also a barbeque favorite, but often contain wheat-based fillers so look for gluten-free on the labels.
When grilling, it's necessary to take measures to prevent cross-contamination. The easiest way to protect the gluten-free food is by wrapping it in foil packets. Place uniform cuts of meat and high-moisture vegetables in the center of a piece of heavy-duty aluminum foil sprayed with cooking spray. Using foil packets allows food to gently steam in its juices, locking in natural flavors and offering quick and easy cleanup.
Rubs & Marinades: Prepared marinades, seasoning blends and bottled sauces can enhance your barbeque menu, but they often contain malt or wheat gluten as a binder. Making your rubs and marinades from scratch is the best way to be sure they are truly gluten-free and safe. Try using balsamic vinegar or a fresh herb mixture containing basil, rosemary, thyme and oregano with a bit of olive oil.
Fruits & Veggies: Fruits and veggies are also naturally gluten-free. Vegetables best suited for grilling include zucchini, asparagus, cauliflower, bell pepper, eggplant, Brussels sprouts, onions, potatoes and tomatoes. Grilling these vegetables will bring out the sweetness of their natural flavors.
Another way to add a bit of sweetness to your summertime barbeques is by throwing fruit on the grill. Watermelon, peaches and grapefruit are particularly good when given a slight char. Preheat the grill to medium-high for at least ten minutes before grilling fruit to prevent sticking. Enhance the flavor by brushing it with melted butter or sprinkling it with lemon juice, brown sugar or cinnamon.