DIY Cowboy Cookies Gift Jar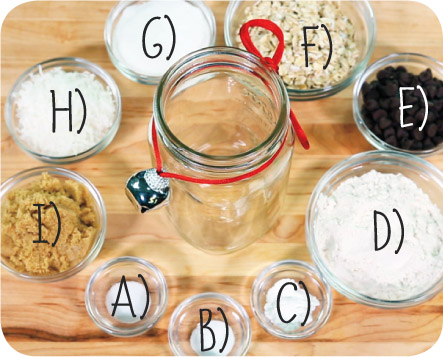 Ingredients
Makes: 1 (32-ounce) jar
a) 1/4 teaspoon salt
b) 1/4 teaspoon baking powder
c) 1 teaspoon baking soda
d) 1 cup unbleached all-purpose flour
e) 1/2 cup milk or semisweet chocolate chips, mini chocolate chips or butterscotch morsels
f) 1 cup quick or old-fashioned oats
g) 1/2 cup granulated sugar
H) 1/2 cup raisins, dried cranberries, sweetened coconut flakes or chopped nuts (or add additional chocolate chips)
I) 1/2 cup packed brown sugar
Gift Assembly Instructions:
Into 1-quart (32-ounce) wide-mouth Mason jar, layer all ingredients in the order listed, packing as necessary.
Seal jar, add festive decorations and a label.
Baking Instructions:
Don't forget to include a recipe card!
Preheat oven to 350°F. In large microwave-safe bowl, heat 1 stick butter in microwave oven on high 60 seconds or until butter melts, stirring every 30 seconds. Add 1 large egg and 1 teaspoon vanilla extract; with whisk, stir until well blended. Add contents of jar; stir until dough is moist and well blended. Drop dough by rounded measuring tablespoons, 2 inches apart, onto lightly greased cookie sheet. Bake 13 to 15 minutes or until edges are set and bottoms brown. Transfer cookies to wire rack to cool completely. Makes about 2-1/2 dozen cookies.