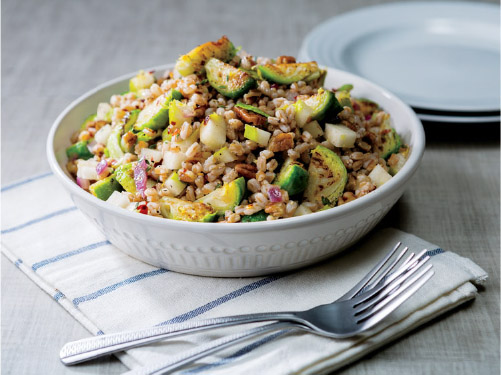 Warm Brussels Sprouts & Farro Salad
Prep: 10 minutes
Cook: 20 minutes • Serves: 4
1
cup pearled farro, rinsed and drained
1/4
cup olive oil
1
package (12 ounces) Brussels sprouts, trimmed and quartered
1
small red onion, chopped
1
D'anjou or Bartlett Pear, chopped
1/2
cup chopped pecans
1
tablespoon lemon juice
2
teaspoons lemon zest
1
teaspoon chopped fresh thyme leaves
1/2
teaspoon crushed red pepper flakes
1/2
teaspoon salt
1/2
teaspoon ground black pepper
1.Prepare farro as label directs; cool and transfer to large bowl.

2.In large skillet, heat 2 tablespoons oil over medium heat. Add Brussels sprouts; cook 8 minutes or until browned, stirring occasionally. Add red onions; cook 3 minutes, stirring frequently.

3.Add remaining ingredients, remaining 2 tablespoons oil and Brussels sprouts to farro; toss. Makes about 6 cups.


Approximate nutritional values per serving:
209 Calories, 12g Fat (1g Saturated), 0mg Cholesterol, 167mg
Sodium, 23g Carbohydrates, 4g Fiber, 3g Sugars, 0g,
Added Sugars, 5g Protein

Dietitian's Dish
Farro is an ancient grain from the wheat family, so it is NOT gluten free. Pearled farro has been processed to remove the outer covering, which allows for quicker cooking.