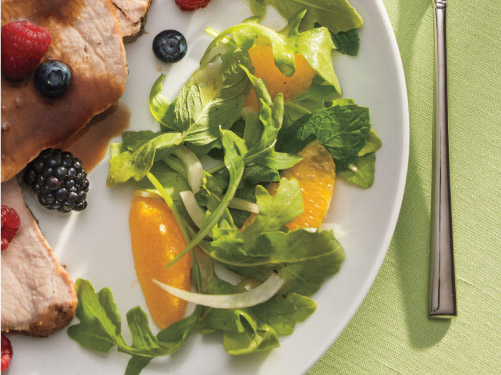 Summer Greens Salad with Orange Vinaigrette
Prep: 20 minutes • Serves: 8
5
medium navel oranges
2
tablespoons rice vinegar
1
teaspoon Dijon mustard
1/8
teaspoon salt
1/4
teaspoon freshly ground black pepper
3
tablespoons extra virgin olive oil
5
ounces baby arugula (about 8 cups loosely packed)
1
medium fennel bulb, thinly sliced (about 2 cups)
1-1/2
cups loosely packed fresh mint leaves (from about 1 bunch)
1.Slice off ends of oranges; place oranges, cut side down, on cutting board. With paring knife, slice down sides of oranges to remove skin and white pith. Hold each orange over small bowl, and gently cut along sides of membranes to release each segment; squeeze remaining membrane portion to release juice into bowl and discard membrane. You should have about 1/3 cup juice.

2.Whisk vinegar, mustard, salt and pepper into juice; whisking constantly, slowly drizzle in oil. Makes about 2/3 cup dressing.

3.To serve, in large bowl, toss arugula, fennel, mint, orange segments and dressing.


Approximate nutritional values per serving: 

107 Calories, 5g Fat (1g Saturated), 0mg Cholesterol,
67mg Sodium, 15g Carbohydrates, 4g Fiber, 2g Protein