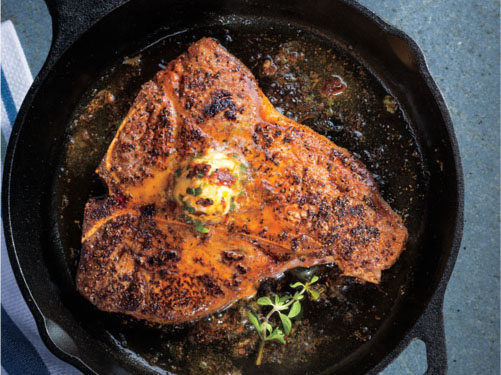 Skillet-Fried Porterhouse Steak with Orange-Chipotle Butter
Prep: 10 minutes plus standing
Cook: 10 minutes • Serves: 2
Orange-Chipotle Butter
1
garlic clove, crushed with press
1/2
cup unsalted butter (1 stick), softened
3
tablespoons fresh orange juice
2
tablespoons chopped chipotle chile peppers in adobo sauce
2
tablespoons chopped chives plus additional chives for garnish (optional)
1
teaspoon fresh lemon juice
1/2
teaspoon salt
Porterhouse Steak
2
teaspoons fresh ground black pepper
2
teaspoons paprika
1
teaspoon dried oregano leaves
1
teaspoon salt
1/4
teaspoon ground cayenne pepper
1
(1-inch-thick) porterhouse steak (about 1-1/4 pounds)
2
tablespoons olive oil
Fresh oregano sprigs for garnish (optional)
1.Prepare Orange-Chipotle Butter: In medium bowl, stir together all ingredients. Cover and refrigerate up to 5 days. Makes about 1 cup.

2.Prepare Porterhouse Steak: In small bowl, combine black pepper, paprika, oregano, salt and cayenne. Sprinkle both sides of steak with seasoning mixture; coat steak with oil and let stand 30 minutes.

3.Heat medium cast iron skillet over high heat until hot. Add steak and cook 10 minutes or until browned and internal temperature reaches 145° for medium doneness, turning once halfway through cooking; top steak with 2 tablespoons Orange-Chipotle Butter during last 2 minutes of cooking. Let stand 5 minutes before serving; garnish with oregano sprigs, if desired.


Approximate nutritional values per serving: 

771 Calories, 54g Fat (21g Saturated), 157mg Cholesterol,
1393mg Sodium, 4g Carbohydrates, 2g Fiber, 52g Protein