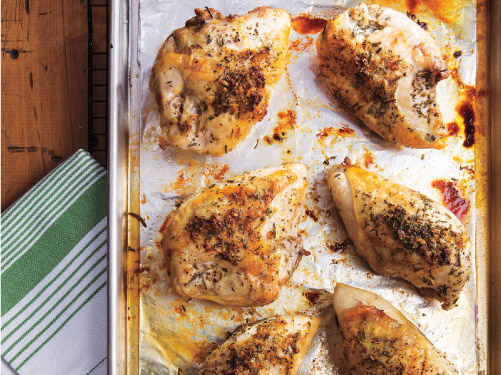 Rosemary-Garlic Roasted Chicken
Prep: 20 minutes plus standing
Roast: 30 minutes • Serves: 6
3
garlic cloves, minced (about 1 tablespoon)
6
tablespoons unsalted butter, softened
1
tablespoon chopped fresh rosemary leaves
2
teaspoons lemon zest
1
teaspoon kosher salt
1/2
teaspoon fresh ground black pepper
6
bone-in split chicken breasts (about 6 pounds)
1.Preheat oven to 450°. In small bowl, stir garlic, butter, rosemary, lemon zest, salt and pepper until well combined. Line large rimmed baking pan with aluminum foil.

2.Pat chicken dry with paper towel; trim excess fat. Starting at bottom edge of each chicken breast, gently loosen skin with fingers; carefully work 1 teaspoon butter mixture evenly between skin and meat of each breast. Evenly spread remaining butter mixture over skin of each breast.

3.Place breasts, skin side up, on prepared baking pan. Roast chicken 30 to 35 minutes or until internal temperature reaches 165°, rotating pan halfway through roasting. Let stand 5 minutes before serving.


Approximate nutritional values per serving: 

491 Calories, 27g Fat (12g Saturated), 195mg Cholesterol,
528mg Sodium, 1g Carbohydrates, 0g Fiber, 59g Protein

Dietitian's Dish Tip:
> Use half the butter and remove the skin after cooking to lower saturated fat and cholesterol.