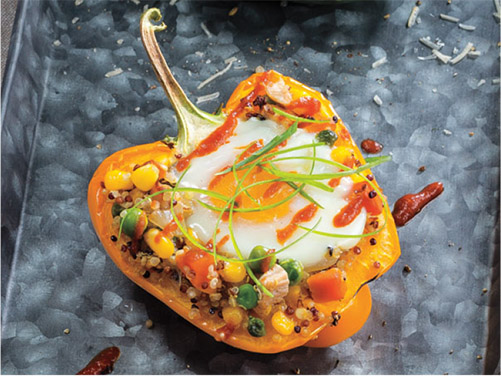 Quinoa Fried Rice with Roasted Chicken Stuffed Peppers
Prep: 15 minutes
Bake: 35 minutes • Serves: 4
1/4
cup quinoa, rinsed and drained
2
large orange bell peppers, halved lengthwise and seeded
1
tablespoon sesame oil
3
tablespoons chopped white onion
1
garlic clove, minced
1-3/4
cups frozen mixed vegetables (carrots, green beans, corn and peas)
1
cup chopped roasted chicken
1-1/2
tablespoons less-sodium soy sauce
1/2
teaspoon grated fresh ginger
4
large eggs
1
tablespoon sriracha chili sauce
1
green onion, thinly sliced
1.Preheat oven to 350°. Prepare quinoa as label directs.

2. Place peppers, cut side up, on rimmed baking pan. In large skillet, heat oil over medium-high heat. Add onion; cook 2 minutes, stirring occasionally. Add garlic; cook 30 seconds, stirring occasionally. Add frozen vegetables; cook 5 minutes, stirring occasionally. Remove from heat; stir in chicken, soy sauce, ginger and quinoa.

3.Fill peppers with quinoa mixture; bake 20 minutes or until peppers are tender. Crack 1 egg onto each pepper; bake 15 minutes or until egg whites are cooked through and yolks are slightly soft. Drizzle peppers with sriracha; sprinkle with green onion.


Approximate nutritional values per serving:
290 Calories, 14g Fat (3g Saturated), 217mg Cholesterol, 431mg Sodium,
19g Carbohydrates, 4g Fiber, 8g Sugars, 1g Added Sugars, 19g Protein

Dietitian's Dish Tip(s):
> Stuffed peppers offer a way to include most of the food groups in a single entrée. Choose your grain, add your protein (meat, seafood, or beans), include more veggies, and top with dairy. Serve them up with fruit and you've got a MyPlate meal in the making.