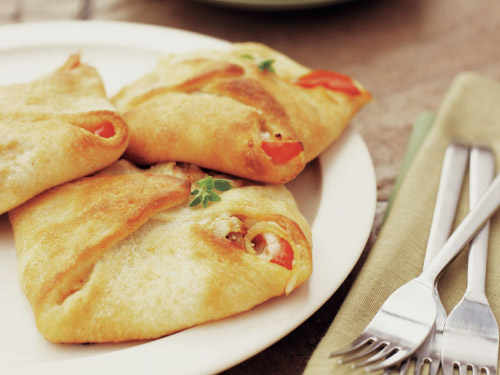 Pepperoni & Vegetable Pocket Sandwiches
Prep: 15 minutes plus standing
Bake: 15 minutes • Serves: 4
1
tablespoon plus 2 teaspoons olive oil
4
ounces white mushrooms, sliced (about 1 cup)
1/2
red bell pepper, chopped (about 1/2 cup)
1/4
small yellow onion, chopped (about 1/4 cup)
1
teaspoon dried oregano
1/4
cup drained sliced black olives
Nonstick cooking spray
1
package (11 ounces) refrigerated thin crust pizza dough
4
slices provolone cheese (about 4 ounces)
32
slices Hormel Pepperoni
Chopped fresh thyme leaves for garnish (optional)
1.Preheat oven to 400°. In large skillet, heat 1 tablespoon oil over medium heat. Add mushrooms, bell pepper, onion and oregano; cook over medium heat 4 to 5 minutes or until vegetables are tender. Remove skillet from heat; stir in olives.

2.Spray rimmed baking pan with nonstick cooking spray. Unroll dough on work surface; press dough into 12 x 12-inch square. Cut dough lengthwise in half, then crosswise in half to make four 6-inch squares. Leaving a 1-inch border, place 1 slice cheese in center of each square; evenly divide pepperoni and vegetable mixture over cheese. On each square, fold corners of dough towards center over filling; pinch edges to seal. Place sandwiches on prepared baking pan.

3.Lightly brush sandwiches with remaining 2 teaspoons oil. Bake sandwiches 15 to 20 minutes or until outsides are lightly browned. Let stand 5 minutes. Garnish with thyme, if desired, and serve warm.

Approximate nutritional values per serving: 

269 Calories, 19g Fat (9g Saturated), 39mg Cholesterol,
679mg Sodium, 12g Carbohydrates, 1g Fiber, 13g Protein