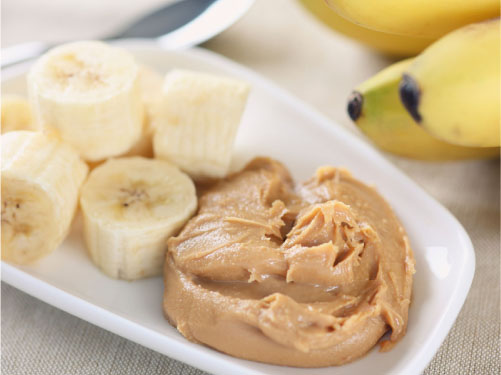 Peanut Butter & Banana Ice Cream Pie
Prep: 15 minutes plus chilling, freezing and standing • Serves: 8
1
container (1-1/2 quarts) premium vanilla ice cream
1
large ripe banana
1
(6 ounce) chocolate cookie pie crust
6
tablespoons creamy peanut butter
3
packages (1-1/2 ounces each) peanut butter cups, coarsely chopped and chilled
1
cup chocolate fudge topping
Whipped cream (optional)
1.Refrigerate ice cream 30 minutes to soften. Cut banana into 1/4-inch-thick slices and layer over pie crust.

2.In medium bowl, gently stir together half the ice cream and half the peanut butter being careful not to let ice cream become too soft. Spread ice cream mixture evenly over bananas. Sprinkle half the peanut butter cups over ice cream mixture, pressing firmly. Freeze 10 minutes.

3.Remove pie from freezer. Repeat step 2 with remaining ice cream, peanut butter and peanut butter cups. Cover tightly with plastic wrap and freeze for at least 2 hours or up to 3 days.

4.To serve, let pie stand at room temperature 30 minutes to soften. Heat fudge topping as label directs. Serve pie drizzled with fudge topping and whipped cream, if desired.


Approximate nutritional values per serving: 

504 Calories, 27g Fat (11g Saturated), 45mg Cholesterol,
319mg Sodium, 62g Carbohydrates, 3g Fiber, 10g Protein