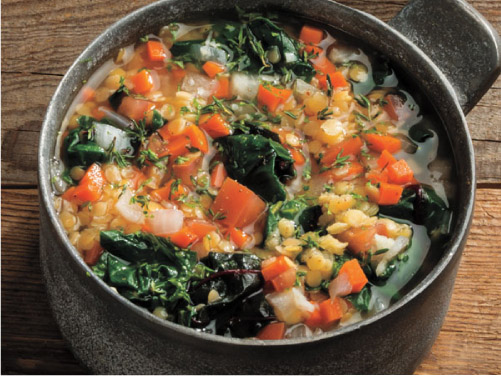 Mediterranean Red Lentil & Swiss Chard Soup
Prep: 15 minutes
Cook: 20 minutes • Serves: 8
1
tablespoon olive oil
2
garlic cloves, minced
1
large carrot, diced
1/2
medium onion, diced
1
cup rinsed and drained red lentils
3/4
teaspoon ground cumin
1
container (32 ounces) less-sodium chicken or vegetable broth
1
cup diced fresh or drained canned diced tomatoes
1
cup water
1
sprig fresh thyme
1
cup packed sliced Swiss chard leaves (veins removed)
2
teaspoons fresh lemon juice
1/2
teaspoon salt
1/2
teaspoon fresh ground black pepper
Chopped fresh parsley for garnish (optional)
1. In large saucepot, heat oil over medium heat. Add garlic, carrot and onion; cover and cook 5 minutes or until vegetables are almost tender, stirring occasionally. Stir in lentils and cumin; cook 1 minute, stirring occasionally.

2.Stir in broth, tomatoes and water; heat to a simmer. Reduce heat to medium-low; add thyme. Cook 10 minutes or until lentils are tender, stirring occasionally. Stir in chard, lemon juice, salt and pepper. Serve garnished with parsley, if desired. Makes about 8 cups.


Approximate nutritional values per serving:
119 Calories, 2g Fat (0g Saturated), 0mg Cholesterol,
440mg Sodium, 17g Carbohydrates, 4g Fiber, 9g Protein

Chef Tip:
Dietitian's Dish Tip(s):
> Add some beans to your favorite soups. They're a low-fat source of protein and fiber, full of powerhouse nutrients like iron, potassium and folate. Legume plants promote sustainable agriculture – helping decrease greenhouse gases, increasing soil health, and using less water than other types of crops.