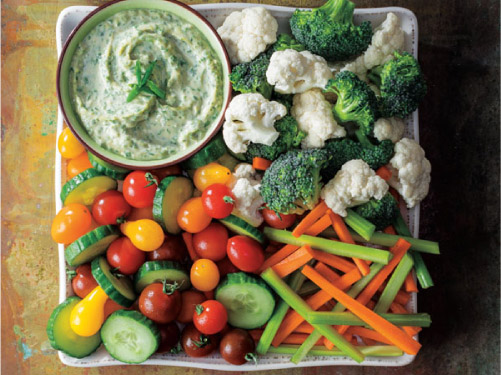 Herbed Tahini Dip with Raw Veggies
Prep: 15 minutes plus chilling
Serves: 6
1
garlic clove, minced
1/2
cup fresh parsley leaves
1/4
cup chopped fresh chives
1/4
cup tahini paste
1/4
cup water
2
tablespoons fresh lemon juice
2
tablespoons olive oil
2
teaspoons honey
6
cups vegetables such as broccoli florets, carrot sticks, cauliflower florets, celery sticks, cucumber slices and grape tomatoes
1.In food processor, purée garlic, parsley, chives, tahini, water, lemon juice, olive oil and honey until smooth. Transfer to small bowl; cover and refrigerate at least 1 hour before serving with vegetables. Makes about 1 cup dip.


Approximate nutritional values per serving: 

845 Calories, 50g Fat (18g Saturated), 189mg Cholesterol, 3091mg Sodium,
37g Carbohydrates, 3g Fiber, 5g Sugars, 2g Added Sugars, 3g Protein
Chef Tip:
This dip can also be served with pita chips or crackers, or used as a sandwich spread.