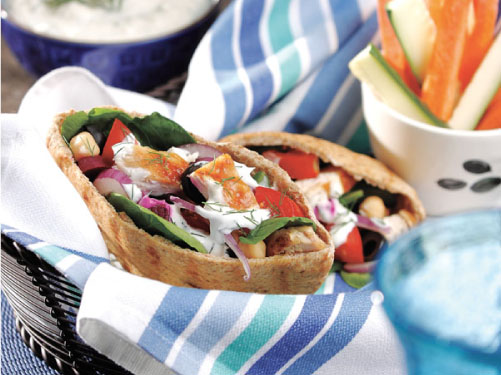 Greek Chicken Pitas with Dill-Feta Sauce
Prep: 15 minutes
Cook: 15 minutes • Serves: 4
Chicken Pitas
1
pound boneless, skinless chicken breasts
Nonstick cooking spray
1-1/2
cups loosely packed baby spinach
1
medium tomato, diced
1/2
medium red onion, thinly sliced
3/4
cup rinsed and drained garbanzo beans
1/2
cup drained and diced canned beets
1/2
cup drained sliced black olives
2
whole wheat pitas, each cut in half
Dill-Feta Sauce
1
container (6 ounces) low fat plain yogurt (3/4 cup)
1
garlic clove, minced
2
tablespoons crumbled feta cheese
1
tablespoon chopped fresh organic dill
1.Prepare Chicken Pitas: Spray chicken breasts with nonstick cooking spray. In grill pan or large nonstick skillet, cook chicken over medium heat 15 to18 minutes or until internal temperature reaches 165°, turning once and pressing down occasionally with large spatula. Remove chicken from pan. Cool chicken 5 minutes and slice.

2.Meanwhile, prepare Dill-Feta Sauce: In small bowl, with rubber spatula, fold together all ingredients. With whisk, stir sauce until well combined. Refrigerate until ready to serve.

3.To assemble pitas, evenly divide spinach, chicken and remaining ingredients into each pita half. Serve with Dill-Feta Sauce.


Approximate nutritional values per serving (1/2 sandwich):
338 Calories, 7g Fat (1g Saturated), 76mg Cholesterol,
563mg Sodium, 34g Carbohydrates, 9g Fiber, 37g Protein

Chef Tip:
To grill pitas before filling, spray uncut pitas with nonstick cooking spray and cook in grill pan over medium heat 1 to 2 minutes per side or until grill marks appear.
Dietitian's Dish Tip(s):
> Did you know that baby spinach has just 7 calories per cup and an abundance of vitamins? It is an excellent source of folate – which is important for a healthy pregnancy and heart health.