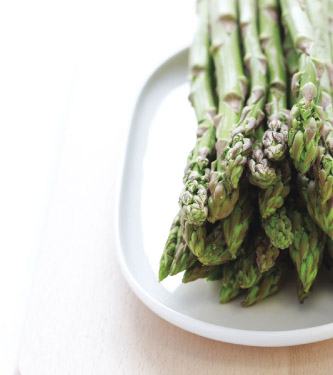 Asparagus, Pea & Parmesan Gratin
Prep: 20 minutes plus standing
Bake: 20 minutes • Serves: 8
1
bunch fresh asparagus (about 1 pound), cut crosswise into 2-inch pieces
5
tablespoons unsalted butter
1-1/4
cups grated Parmesan cheese
3/4
cup panko breadcrumbs
2
garlic cloves, minced
1/2
small yellow onion, finely chopped (about 1/2 cup)
2
tablespoons all-purpose flour
1
cup heavy cream
2
teaspoons chopped fresh thyme leaves
1/2
teaspoon ground black pepper
1-1/2
cups frozen sweet peas
1.Preheat oven to 375°. Heat large covered pot of salted water to boiling over high heat. Add asparagus and cook 2 to 3 minutes or until tender but not soft. Drain.

2.In medium microwave-safe bowl, heat 3 tablespoons butter in microwave oven on high 30 seconds or until melted. Add 1/2 cup cheese and breadcrumbs and stir until well combined.

3.Meanwhile, in large skillet, melt remaining 2 tablespoons butter over medium heat. Add garlic and onion, and cook 4 minutes or until onion is tender, stirring occasionally. Add flour and cook 2 minutes, stirring constantly. Stir in cream; heat to simmering. Add remaining 3/4 cup cheese, thyme and pepper, and stir until well combined. Add peas and asparagus and toss until well coated. Pour mixture into 9 x 9-inch glass or ceramic baking dish. Sprinkle evenly with breadcrumb mixture.

4.Bake gratin 20 to 25 minutes or until edges bubble and top is golden brown. Let stand 10 minutes before serving.


Approximate nutritional values per serving: 

297 Calories, 22g Fat (14g Saturated), 73mg Cholesterol,
288mg Sodium, 14g Carbohydrates, 3g Fiber, 10g Protein